Welcome to SeniorNet LI's Volunteer Page
"Volunteering is the ultimate exercise in democracy. You vote in elections once a year, but when you volunteer, you vote every day about the kind of community you want to live in." unknown
SAVE THE DATES 2018
Spring Open House (HLC): March 16
Volunteer Luncheon (sponsored by Family Service League): April 25
Summer Open House (HLC): June 22
Volunteer Training (Teachers & Coaches): May 18
Fall Open House (HLC): September 14
Annual Meeting: October 30
Holiday Party: November 30
Winter Open House (HLC): December 7
Email blasts are sent to our volunteers giving specifics about each event.
Congratulations to our Slava!
Slava Vero receives Suffolk County Senior Volunteer of the Year award.
Click here for excerpts from Slava's remarks. "Thank you Legislator Spencer and the Suffolk County Legislators for presenting me with this prestigious award."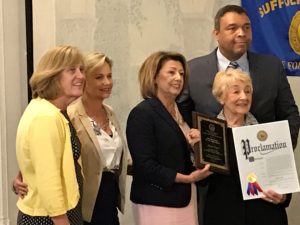 Recipients of the Phyllis Y. Haber Award

The Phyllis Y. Haber Award, bestowed annually to the person showing outstanding dedication and providing service to the senior community. This award was established in the year 2000. It is named after Phyllis Y. Haber, who was the Family Service League's Vice President of Programs and Grants Development.
2000 Phyllis Y. Haber
2001 Dave Bushnell
2002 Don Weidman
2003 Heber Marquez and Eric Vero
2004 Slava Vero
2005 Don Stone
2006 Nick DeFlorio
2007 Moss Rawn
2008 Fred Atkin
2009 Helen Morris
2010 Jim Burke
2011 Bill Baker
2012 Otto Niebler
2013 Bob Festa
2014 Phyllis Pappas and Florence Staebler
2015 Claire Kerman
2016 Nick Radesca
2017 Evelyn Mattal
Recipients of the Eric Vero Technical Award

The Eric Vero Inaugural Technical Award was established for outstanding contribution to the technical needs of SeniorNet and is presented to an exceptional volunteer whose work continues the tradition of the "Lab Rats" as established in 1999 by the founders of the SeniorNet LI Computer Lab.
2013 Ed Kristol
2014 Joseph LaMagna
2015 Emily Sternhell
2016 Jim Burke
2017 Otto Niebler
SeniorNet LI Recipients of the SeniorNet National Curriculum Contest

SeniorNet National conducts an annual curriculum contest to encourage submissions from Center teachers to share course curriculum with other Centers throughout the United States.
2014 Diane Asser, Bill Baker, Bob Kohler, Rich Levitan, and Moss Rawn
2016 Diane Asser, Evelyn Mattal & Sandie Baron (Honorable Mention)
SeniorNet LI Recipients of SeniorNet National President's Award

SeniorNet President Award is given for distinguished contribution to the National Organization
2016 Bill Baker, Sandie Baron & Nick Radesca